Mathematics
Mathematics is an essential part of everyday life and supports many of the subjects across the curriculum. At St Edmunds, we believe all children can succeed at maths. Our aim is for every child to feel able and confident in maths, to have a love for the subject and to be prepared for the next stage of their learning.
Our Approach to Mathematics
At St. Edmund's, our mathematics teaching is underpinned by a maths mastery approach, a product of extensive research into the highly successful teaching practice in Singapore and Shanghai, an approach we have been supported with by the London Southwest Maths Hubs since 2019.
Our teaching is structured in well-paced, small steps based on the National Curriculum and Early Years Foundation Stage using the Mastery approach, which allow pupils to move at broadly the same pace. Whole class teaching is adopted, keeping the class working together, with no acceleration to new content. This is to avoid superficial, surface learning and to foster a deep, secure understanding of all the concepts taught.
Instead, children are encouraged to deepen their understanding by recognising patterns within the topic, make connections within and between topics, apply their learning to other areas of mathematics, and to present their reasoning using appropriate mathematical terminology. The learning needs of every child are addressed through careful questioning and appropriate, immediate intervention – this provides the necessary scaffolding or challenge for all.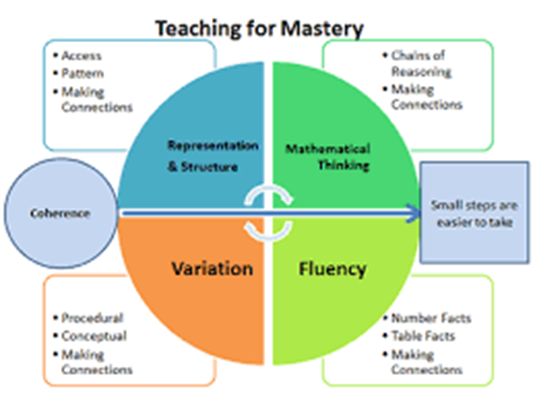 Our Curriculum
In our reception class, children work towards the Early Learning Goals for Number and Shape, Space and Measure. Teaching adopts the Teaching for Mastery principles where appropriate and builds this into the unique pedagogy for the EYFS.
The Key Stage One and Key Stage Two Curriculums follows the National Curriculum objectives for each year group, focusing on four areas: number, measurement, geometry and statistics across the year. Within these areas, concepts are taught slowly and at great depth to ensure the learning is secure and sustainable.
Our curriculum maps are structured to enable topics to be taught in a structured order to ensure learning is built on prior learning and to establish connections between the topics. Included in every lesson are fluency, reasoning and problem-solving tasks, giving the children the opportunity to explore the concept being taught extensively before moving on to the next.
Questions are designed carefully by the teachers to provide intelligent practice, developing and embedding conceptual fluency. We believe in exposing the children to multiple representations of a concept, using concrete, pictorial and abstract (CPA) examples simultaneously to support the children's understanding.
Key Content Focus Areas at St Edmund's:
Place Value
Number Bonds & Multiplication facts
Division
Fractions
Ratio
Key Skills Focus Areas at St Edmund's:
Fluency with number - skills and application
Number Investigations, problem-solving and layout of 'workings'
Holding numbers - increasing memory
Shape visualisation
Enrichment Activities
Certificates – Achieving their number bonds to 20 (KS1) Achieving their 12 x 12 multiplications (KS2)
School and year group multiplication competitions
Competitions with other schools – Year 6 Primary Challenge based on the UKMT Primary Challenge
STEM after-school club
Useful links