Mental Health & Well-being
At St. Edmund's we aim to actively promote the mental and physical wellbeing of the children and adults in our school community. Our mission statement highlights that we encourage our children to develop their spiritual and academic potential and individual talents by recognising, valuing and celebrating the worth of every individual. As part of our school vision, we want children to be healthy in mind and body with a zest for life.
With that in mind, we have a dedicated team of staff whose role it is to promote, monitor and support the wellbeing of all. As a school we believe in working together with families to support children's emotional wellbeing and offer a range of interventions and resources to do so.
Through the curriculum, emotional wellbeing and resilience is embedded in a number of ways through:
PSHE (Personal, Social, Health and Economic Education)
RSE (Relationships and Sex Education)
Habits of Mind within the Thinking Curriculum
Science: Healthy lifestyle – eating and exercise
Computing: Online Safety
PE: sportsmanship and resilience
Assemblies and class circle times
Enrichment days – such as Young Minds #HelloYellow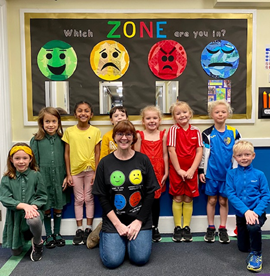 Alongside the curriculum, we run a variety of additional programmes and activities which we draw upon to support the children and staff within the school – including: The Zones of Regulation Programme, Rainbows Bereavement Support Programme and Emotional Literacy Support interventions such as nurture and friendship groups. We also have class and whole school worry boxes to encourage the children to talk about their feelings and ask for help when needed.
We recognise that transitions can be a difficult time for many children and with that in mind, we have a focus on children moving from Nursery/Home into Reception class and from Reception to Year 1. We also run a transition programme for the Year 6 children moving onto secondary school.
As a school, we can provide access to a number of professional therapists (including art, movement and play therapists) who work with specific children and adults who are identified as needing additional support.
This year, we are excited to be taking part in a scheme run by Richmond Borough which involves the setting up of Mental Health Support Teams to provide preventative support and deliver evidence-based psychological early interventions in schools and create better links with wider services.
The school has been allocated an EWP (Education Wellbeing Practitioner) whose role it will be to work with specific parents to support their children with their emotional wellbeing.
Links to the different programmes we use in school and websites with helpful resources for families can be found below:
Following on from our Sleep Workshop for parents, you can find a few top tips and resources to support children's sleep hygiene on the Mental Health and Wellbeing section of the school website. You will also find more helpful links to websites and general resources that can help to support your child's (and your)mental health.
Books:
Why We Sleep: The New Science of Sleep and Dreams - Matthew Walker
What to Do When You Dread Your Bed: A Kid's Guide to Overcoming Problems with Sleep - Dawn Huebner
Solve Your Child's Sleep Problems - Richard Ferber
Websites:
APPs:
Calm, Headspace, Sleepio, Pzizz
Resources to support mindfulness and relaxation:
Yoga Pretzels: 50 Fun Yoga Activities for Kids and Grownups (Yoga Cards)
Mindful Kids (Mindful Tots)