The Story of St Edmund
St. Edmund (1174-1240) Peacemaker, Father of the Poor, Patron of sick Children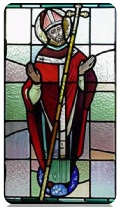 St. Edmund of Canterbury is remembered in England, France and America for his faithful life loving God. In France, where he is buried, St. Edmund is known as the patron saint of sick children.
In England, where he was born, St. Edmund is known as a peacemaker. Edmund's life began in Abingdon, a small village close to Oxford.
As a young man, he became a noted professor of maths and geometry at Oxford University. In mid-career, he was inspired by a dream to leave teaching and enter the priesthood. After becoming a priest, Edmund left Oxford for a country parish near Salisbury. There he gave away his possessions to feed the poor and care for the sick. The Pope, learning of Edmund's self-sacrificing spirit, named him Archbishop of Canterbury.
While journeying to Rome, Edmund fell sick and died in Pontigny, France. He was buried there at the Abbey and many miracles took place at his tomb. Within six years, the Pope declared him a saint. Six centuries later, the Society of St. Edmund was founded at Pontigny.
Now the Fathers of St. Edmund are involved in apostolates in England, the United States and Venezuela. The Edmundites keep their patron's memory alive by following his example of service to others. The Fathers of St. Edmund try to be, as Edmund was,
"eyes to the blind, feet to the lame, father of the poor and friend to strangers in trouble."
Information comes from the Society of Saint Edmund
PRAYER TO ST EDMUND
God, who raised up St. Edmund
to be father of the poor and patron of sick children,
please grant that I may learn from Edmund's example
how to love all God's children,
however poor or unwell;
that I may become,
like him,
eyes for the blind,
feet for the lame,
and a friend to strangers in trouble;
and that by this intercession
I may be protected from all evil and distress.
I ask this in the name of Jesus Christ our Lord,
Amen.